With Valentine in the Air, Day 23 of Big Brother Naija is no doubt one of the most fun-filled day for the both the housemates and viewers. Dont Worry if you missed #BBNaija Day23, we got you covered.
Delightful Surprise for the ladies

Aren't the male Housemates the sweetest? Imagine being woken up to the smell of a wholesome breakfast consisting of toast, omelets, fruits, and coffee, coming from the kitchen. This is exactly what the female Housemates woke up to this morning.
This sweet gesture seemed like the perfect antidote after last night's' Live Nominations, which left a left a bitter taste in most of the Housemate's mouths, as well as it being Valentine's Day today.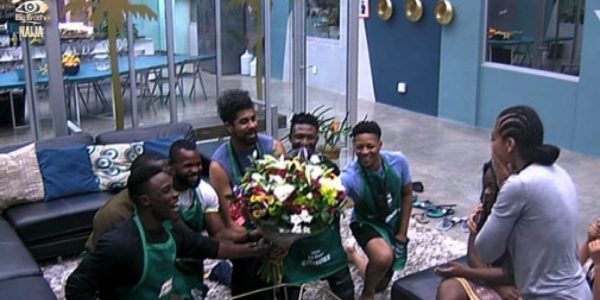 The breakfast was received with much delight from the girls, as they gave the boys hugs and kisses, while 2Face's track titled "African Queen" played in the background. The girls wasted no time and dug in immediately while sharing stories of how they would celebrate Valentine's Day outside the House.
The special treat did not end with breakfast, as the girls were ushered into the lounge, and were asked to close their eyes, while the boys quickly fetched a huge bouquet of flowers and sweet treats, consisting of berries and grapes.
After hugging it out and shedding a few tears of joy, the girls were heard hinting that they might do something nice for the boys in return. The morning was wound down with a round of exercises lead by ThinTallTony.
Mr. Nigeria Surprises the Housemates

The ladies in the House were treated to a lovely early morning breakfast and flowers from the guys who went to work in the kitchen to make the ladies feel special. They were in for another huge surprise as the Housemates were treated to a special guest in the form of Mister Nigeria, Emmanuel Ikubese. The Housemates were overwhelmed by this surprise guest, he jokingly said "Marvis, Big Brother says I must give you a nice massage." He gave a delighted Marvis a huge hug while the ladies fell over themselves to show him around the House.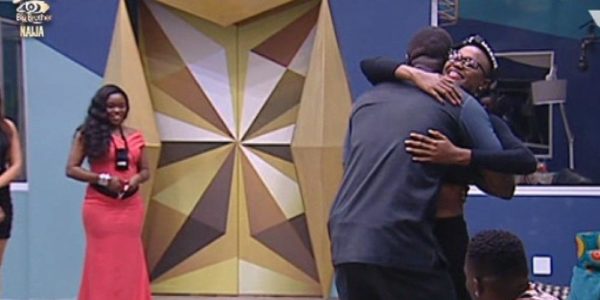 "I think whether or not you win, it's a platform." Mister Nigeria, Emmanuel Ikubese tells the Housemates that he had tried a few times to get into Biggie's House. He chatted to them when over a bowl of Garri about wanting to do Big Brother instead of Mister Nigeria but that he never got chosen. He then decided to enter Mister Nigeria and how his career had taken off after his win, with many doors opening up to him. He explained that the platform that they are now on is amazing and he reminded them that not only Nigeria was watching but the rest of Africa too.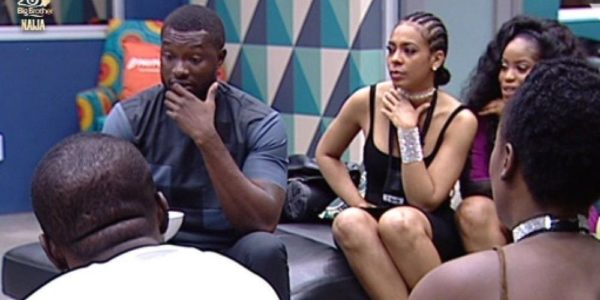 Emmanuel explained his journey to getting into acting which came out of his music career as a DJ. He took some questions from the Housemates and discussed what his favorite sports were and Bassey asked him how he handled sudden fame to which he dished out some sage advice, starting off with "Do not see yourself as bigger than you are." He added that they should concentrate on educating themselves so that they could have something to fall back on.
Unfortunately, his time in the House was all too short and he sadly had to say his goodbyes, posing with all of the Housemates.
Housemates make Some Noise

Loud banging and rattling of empty tins, wooden and iron rods constituted the rest of the morning in the House, as the Housemates tested the musical instruments they have already assembled together.
Yesterday, the Housemates were instructed to form three groups and make musical instruments using items such as containers, bins, and pins. This formed part of their Task this week.
The banging and rattling were accompanied by singing and dancing, as some of the Housemates made up random songs, with titles such as "Gon SeeGobbe."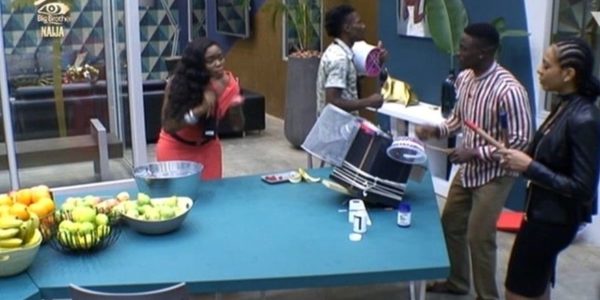 We can't wait to see and hear what they come up with during their Task Presentation this Thursday evening.
Housemates bare it all
The Diary Sessions this evening started with Bassey and Biggie wasted no time in quizzing him about the general mood in the House and how he felt about not being Nominated this week. Bassey's response was simple "I feel humbled by not being Nominated, and I feel people are warming up to my personality now".
Debie-Rise felt a bit upset at Efe and his hot and cold tendencies towards her and felt the need to have a chat to him about it sooner rather than later.
Uriel had a mouthful to say about her perception of Kemen being two-faced and untrustworthy. She also took swipes at TBoss for hoarding Jon all to herself. She borderline admitted that she kind of fancied Jon for herself too. She fears Debie-Rise as she perceives her as a big threat.
Efe's trust issues reared it's head again as he admitted that he trusted no one. He said he saw himself as a very loyal person and felt Debie-Rise was a bit too clingy to him, which was rubbing him off the wrong way.
Love poem recitals
Valentine's day is about love and doing special things for your loved ones or a special someone and Biggie decided to give the Housemates a platform to show their lyrical dexterity in writing poems that they read to their fellow Housemates and possibly a special Housemate of their choice.
But in true Big brother fashion, biggie has included two clauses in this poem recitals, the Housemates g0t two different keywords picked out of two different word groups, and they had just 10 minutes to create their poems.
Videos:
Breakfast In Bed (Valentine's day treat)
Mr Nigeria brought Valentine gift for the ladies
TBoss locked lips with Jon
The kissing festival