Every Squad needs it's gear
D Unbreakable Titans were formed yesterday on Big Brother's request, and this morning, Biggie has shown his intrigue at the progress made by the Housemates as a team. In acknowledging the Housemates' efforts, Biggie felt every squad member needs to take part, and he sent them a surprise in the store room.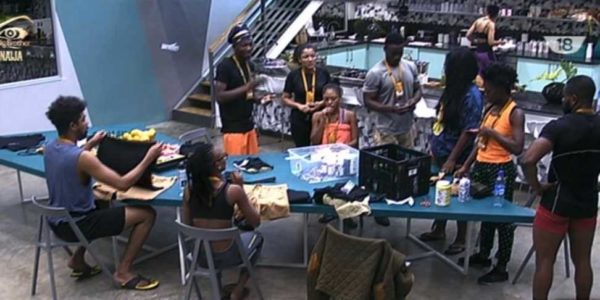 Biggie's surprise: a box of gear and accessories to design and spice up their squad uniform. The Housemates called on all their expertise and the Housemates with graphics design experience set out designing their squad gear, keeping in mind that their outfits must be uniformed.
Boot Camp

Keeping in line with the theme of the week which is Bonding, Biggie decided that the word uniformity shouldn't just be evident in the outfits made and worn by the Housemates, but it should also reflect in everything they do.
As such, Biggie invited a special guest to drill the Housemates in a special boot camp organized in the games Arena. Big Brother's drill sergeant wasted no time in putting the Housemates through their warm-up paces before he cranked up the heat.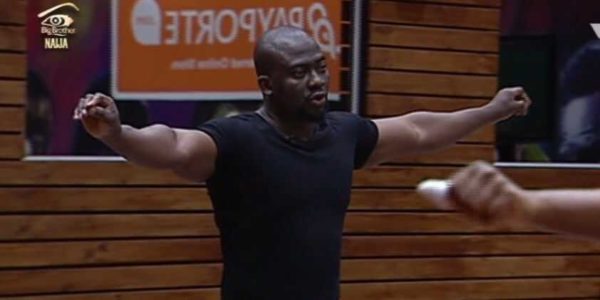 The drill sergeant was very intense in his regimen as he started with cardio exercises, before switching to an abdominal workout session. After about an hour, the drill sergeant instructed the Housemates to go rest and drink water sparingly, because the boot camp session was far from over.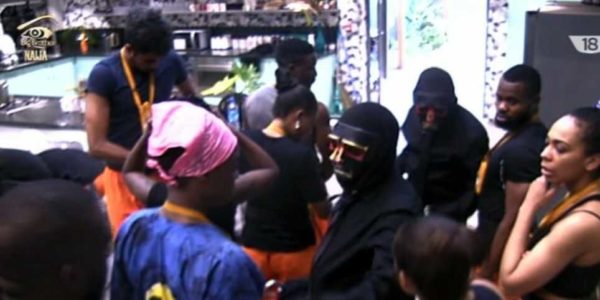 Enter Biggie's Ninjas with climbing hooks and they quickly strapped the Housemates together as they filed into the Arena for round two with Biggie's drill sergeant.
After some squats to warm up their muscles, the Housemates were thrown into a series of grueling exercises, all the time strapped together in a 'chain gang' manner. This particular session of the boot camp ensured that all the Housemates had to start and finish each regimen together; If one faltered, it simply meant they all faltered and had to start all over.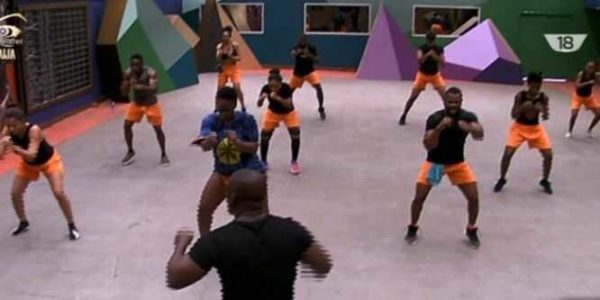 The old and the Exhausted
It was extremely obvious that the Housemates were exhausted after today's Boot Camp. Some of the Housemates complained of their aches and pains thanks to Biggie's Drill sergeant who took no prisoners.
Biggie grilled everyone on the Bonding grill and today's grueling Drill Session and everyone felt that they had learned from being chained together in the House but most felt uncomfortable when they all had to go to the loo together,
Biggie also wanted to know if they would be happy for the Drill Sergeant to come into the House again, most tentatively said no but that the experience had helped the mood in the House. Most felt that it had been hard going and they all felt aches and pains with ThinTallTony asking for some medical help with his knee.
Bassey asked Biggie about the Task with the uniforms with Biggie quipping "Big Brother doesn't wear clothes." Most felt uncomfortable with the Bonding Drill when it meant going to the toilet and shower still chained, but they all felt that it made them all work better together. Bassey saying that because of the Bonding Drill the Housemates "argued less and contributed more." He added that it brought out unity and their creativity.
Biggie reserved the right to do as he pleased, as is the way it should be and the Housemates by now should have worked it out that Biggie always has something up his sleeve. It is a long week and Biggie can crack the whip and blow the whistle to bring his housemates up to standard to save their wager.
Do you think this Boot camp will bring them close? Don't forget Bisola, Bassey, Coco Ice, Debbie rise and Gifty are up for possible eviction this week.
Gifty and Bally's pillow talk
Videos
CoCoIce tells you why you should vote for her

They sure know how to dig it. #MIYONSE and #SOMA in #WazobiaFM Lagos studio
Debie-Rise is live on Bassey's midnight radio show
Did you miss Biggie's boot camp session with the guest drill sergeant? Well, here's a glimpse of how it went down.